NANOS Heroes - Dr. Melissa Ko
VOLUNTEER CORNER - NANOS HEROES
Meet our April 2020 hero and Telemedicine guru, Dr. Melissa Ko!
DR. MELISSA KO, NANOS AMBASSADOR, HIGHLIGHTING N-O ADVANCES COMMITTEE CHAIR AND NANOS BOARD MEMBER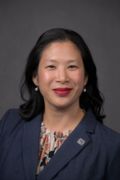 Melissa Ko, MD, Chair, Highlighting N-O Advances Committee and NANOS Board Member
Ophthalmology or Neurology? Neurology

What was the best clinical pearl you learned in fellowship?
The 3 A's in delivering care to patients and referring doctors: ability, affability, and availability.
What are the top 3 things you've learned over the last 5 years?
1. Never stop being curious and continue learning.
2. Opportunities may come from unexpected places and to not be afraid to explore them.
3. Personal difficulties/challenges are opportunities to examine one's priorities and forge deeper connections to and with the things that truly matter.
Tell us about your involvement with NANOS!
I attended a YONO forum years ago headed up by Janet Rucker, and that led to greater involvement with YONO, then advocacy, WIN, membership and so on. Connecting with NANOS members has been the greatest professional gift I have ever received. The people of our organization are truly some of the smartest, hardest working, and kindest people I have had the privilege to work and collaborate with. That I also get to call many of you friends is a blessing.

What would you say to members who want to be more involved in NANOS?
Tell us asap! (The board or NANOS staff). We want to get you plugged into an area that matches your interest and our needs.

What do you know at this stage in your career that you wish you knew when you first joined NANOS?
1) That telemedicine was going to be a part of our daily reality. It would be rather helpful about right now if we could have a way for patients to capture a fundus image from home and send it to us.
2) Keep exploring what you are most passionate about and align yourself with like minded people. The rest will work itself out.
Visit NANOS Telemedicine page for telehealth resources.