NANOS Heroes - Dr. Lanning Kline
DR. LANNING KLINE, NANOS AMBASSADOR AND 2019 MERIT AWARD WINNER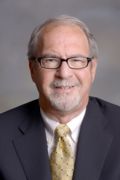 Lanning Kline, MD
Ophthalmology or Neurology? Ophthalmology

What was the best clinical pearl you learned in fellowship? Listen to the patient.

What are the top 3 things you've learned over the last 5 years? 1) Listen to the patient; 2) Avoid cognitive biases including *"anchoring", **"confirming" and ***"framing"; 3) Always review the neuroimaging studies with a neuro-radiologist.
Tell us about your involvement with NANOS! Involvement in NANOS is a natural progression after completing a neuro-ophthalmology fellowship. In order to keep up with the latest developments in our field, it is essential to attend the BEST meeting available. Without doubt, NANOS puts on the best educational meeting for our subspecialty. Serving as Editor-in-Chief of the Journal of Neuro-Ophthalmology allowed me to see the excellence in scholarship within our society.

What would you say to members who want to be more involved in NANOS? It's easy to get involved in NANOS. Just speak up & volunteer; your voice will be heard & you'll promptly be involved!

What do you know at this stage in your career that you wish you knew when you first joined NANOS? To keep NANOS as a vibrant and forward-looking organization takes a lot of time and effort. We need to recognize our leadership for their outstanding service and play our part in making sure that NANOS is able to grow and flourish!

*Anchoring bias is the tendency to rely too heavily on certain information early in the diagnostic process, to be overly influenced by first impressions, and thereby to limit consideration of alternative explanations.
**Confirmation bias is the tendency to focus on information that supports, rather than refutes, our preconceptions.
***Framing bias occurs when different conclusions are drawn from the same information, depending on how that information is presented.
Also featured in the April 2019 Spotlight! Read the full issue here.