BREAKING NEWS:
---
---
FIGHT FOR SIGHT AND NANOS JOINT AWARD
We are pleased to announce Dr. Linus Da-Shih Sun of Columbia University as this year's recipient of the Fight for Sight-NANOS Research Award.

Click here to view the full press release!
---

NANOS Members in the News
---
Nancy Newman, MD, recieves the NANOS 2013 William F. Hoyt Lecturer Award at the 117th Annual Academy of Ophthalmology Meeting for:
"Neuro-Ophthalmology in Review:
Around the Brain With 50 Fellows" View the presentation here!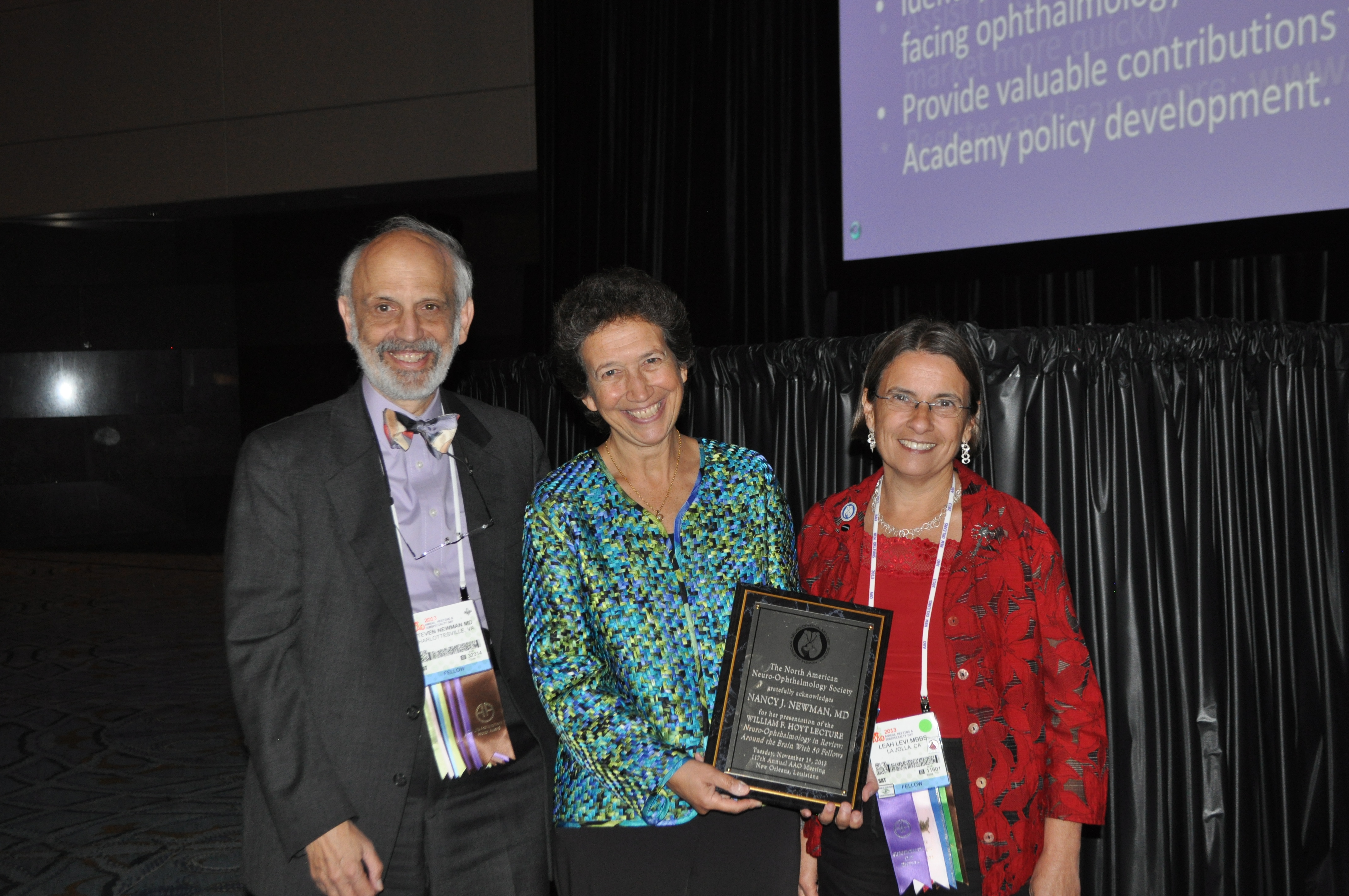 ---
Alfredo A. Sadun, MD, PhD, receives the NANOS 2012
William F. Hoyt Lecturer Award at the
116th Annual American Academy of Ophthalmology Meeting for:
"Are We There Yet? Is Neuro-Ophthalmology at the Cusp of a Paradigm Shift?"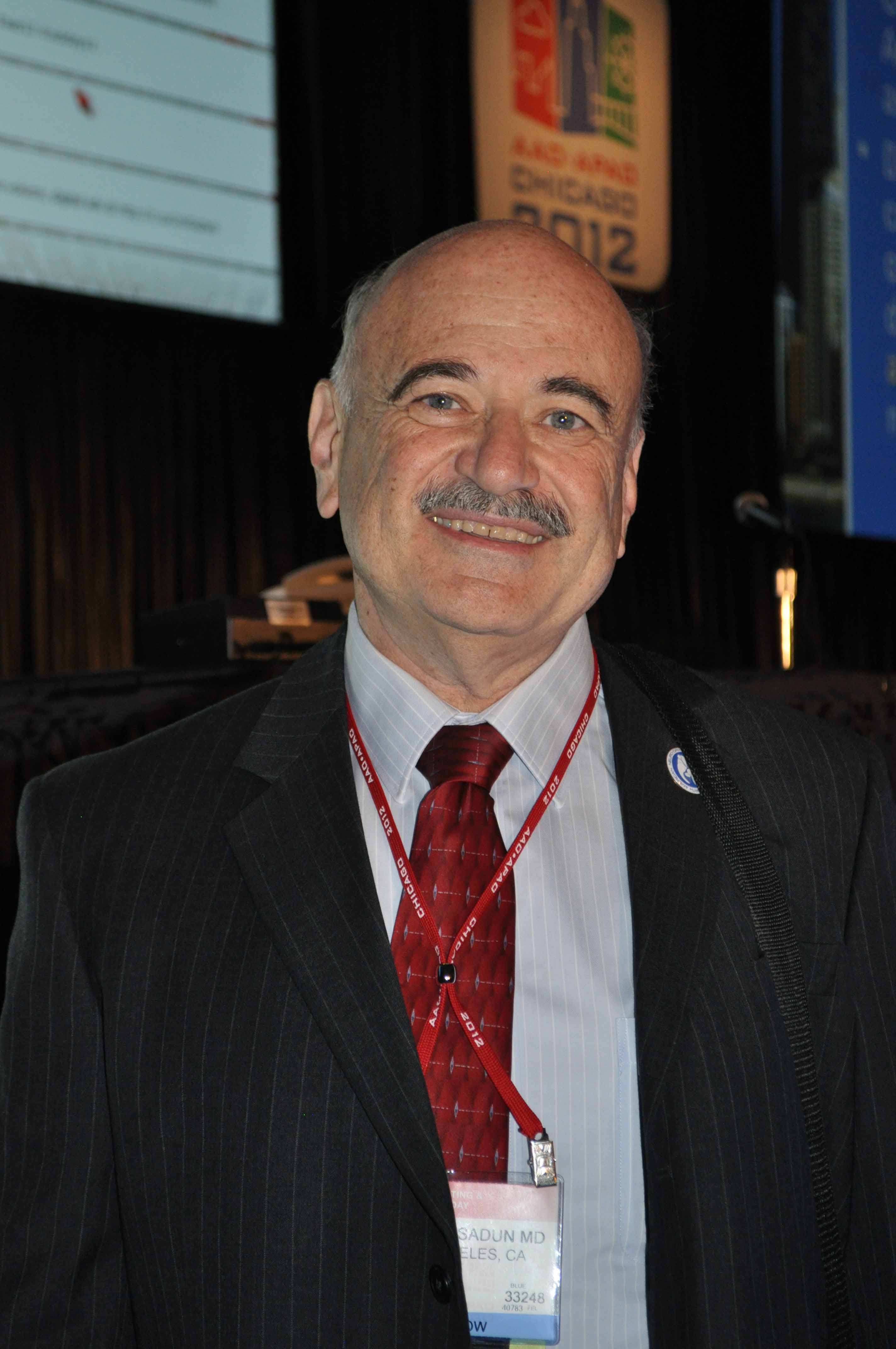 ---
Steve Galetta, MD, Appointed Chair of the Department at Neurology at NYU Longone Medical Center; Laura Balcer, MD, MSCE, Joins as Vice Chair
NYU Langone Medical Center announced on June 27, 2012, that Steven L. Galetta, MD, has been appointed Chair of the Department of Neurology, and Laura Balcer, MD, MSCE, has been appointed vice chair of the department. The appointments are effective November 1, 2012....read more.
---
Kathleen Digre, MD and Michael Varner, MD Receive 2012 Rosenblatt Prize
The North American Neuro-Ophthalmology Society is pleased to announce that longtime NANOS member, Kathleen B. Digre, MD, professor of neurology and ophthalmology, and her husband, Michael W. Varner, MD, professor of obstetrics and gynecology were the two people honored at the University of Utah's May 4, 2012 commencement ceremonies with the Rosenblatt Prize for Excellence, the U's most prestigious award.
View complete details here.
---
NANOS EVP, Larry Frohman, MD, to
Receive Faculty of the Year Award at the NJMS

Congratulations on this award, Dr. Frohman!
---
Deborah I. Friedman, MD, receives NANOS 2012 Distinguished Service Award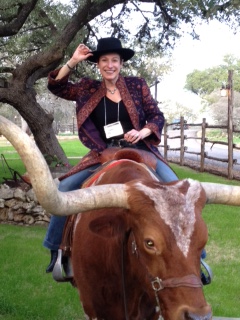 Shown here in San Antonio.

The NANOS Distinguished Service Award for 2012 was presented to Deborah I. Friedman, MD at the NANOS annual meeting in San Antonio, Texas. The award is chosen by the NANOS Executive Board. Steven Feldon, MD, made the presentation at the annual banquet on February 15, 2012.
View complete details here.
---
Shirley Wray, MD, FAAN, is 2012 A. B. Baker Lifetime Achievement Award Winner
Lori Ann Schuh, MD, FAAN, Chair of the A.B. Baker Section of Neurologic Educators, is pleased to announce that Shirley Wray, MD, PhD, FAAN, from Harvard Medical School, has been selected to receive the 2012 A.B. Baker Award for Lifetime Achievement in Neurologic Education.

Dr. Wray received the award at the Education Colloquium on Monday, April 23, 2012, during the Academy's 2012 Annual Meeting in New Orleans, LA.
---

Steven A. Newman, MD, receives the NANOS 2011 William F. Hoyt Lecturer Award at the 115th Annual American Academy of Ophthalmology Meeting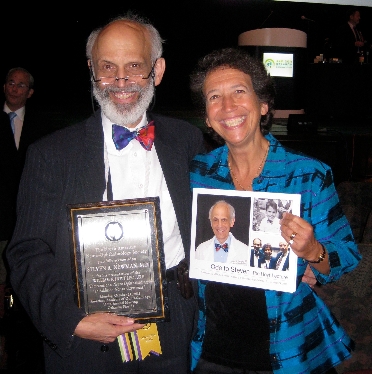 Shown here with sister, Nancy J. Newman, MD (right)
What's New
Follow NANOS today and start receiving vital updates!

Neuro-ophthalmology virtual
educational library (NOVEL)
[click here]
POVL Case Control Study Press Release
NASA –Sponsored Study Describes How Space Flight Impacts Astronauts' Eyes and Vision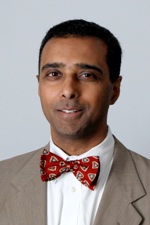 Prem S. Subramanian, MD PhD was recognized at the American Academy of Ophthalmology's Joint Meeting with the Middle East Africa Council of Ophthalmology (MEACO) in Chicago for his selection to the Academy's Leadership Development Program XIII, Class of 2011.

Safety Study of a Single IVT Injection of QPI-1007 in Chronic Optic Nerve Atrophy and Recent Onset NAION Patients - Please click here for details.
Larry Frohman, M.D., Past President of NANOS, recently presented his analysis of the state of neuro-ophthalmology manpower and academic practice economics in the US to the Association of University Professors of Ophthalmology.
[Please review his presentation here]
Neurosurgical Focus
Please check out a special issue of Neurosurgical Focus devoted to Neuro-Ophthalmology [Click Here].
The content is free and includes current reviews of important topics by NANOS members.
AUPO FCC NOW ACCEPTING APPLICATIONS
The AUPO Fellowship Compliance Committee is pleased to announce that the subspecialty of Neuro-ophthalmology is now accepting applications [more >]
Practice Advisory for Perioperative Visual Loss Associated with Spine Surgery
A Report by the American Society of Anesthesiologists Task Force on Perioperative Blindness
[View PDF]
NANOS WEBSITE SEARCH [click here]


NORDIC Clinical Trials
[click here]